RELEASE UPDATE
for Semper Fidelis (anthology)
andSoul Sick (novella)
The Semper Fidelis anthology, releasing through Totally Bound is available for pre-order at the publisher's website (https://www.totallybound.com/semper-fidelis). It becomes available for early download tomorrow, January 23rd. For those who aren't members of Totally Bound, or who prefer to purchase from Amazon or ARe, it will be available for general release on February 20th.
My story, Soul Sick, will be available as a single novella at some time in the future. I'll provide updates as I get them.
Since Totally Bound is a new publisher for me, these are brand new characters you're being introduced to. Their story looks at how complicated it sometimes is for both warriors, and their families, to establish a day-to-day routine at the end of deployment. Settling in with a virtual stranger is hard enough, but when the deployment itself still has a grip on the warrior, things are exponentially more difficult.
BLURB:
Jamie thought he made it home to Tucker, leaving war behind. Now, each day he battles to fit into his own life, and save the love that saved his life.
Jamie is a captain in the U.S. Marine Corps who carried a photo of Tucker with him throughout his deployment. His body and his heart both make it home, but he isn't sure about his sanity. It no longer feels as if his own life even fits.
Tucker is a reformed bad boy who has an advanced degree and an important job but still sports long hair and tattoos. He missed Jamie while he was deployed, but he couldn't stop living his own life. Now, they're struggling to learn to live with each other again, and things are going downhill fast.
Jamie wants everything to be the way it used to, but his anger and self-destructive behavior begin to push Tucker away. Too much alcohol and a night of violence inside their home take them nearly to the brink. Tucker is willing to fight alongside Jamie to keep it all from falling apart, if Jamie can learn to accept the help he needs…before it's too late.
EXCERPT:
Jamie bounded down the steps of the bus. His LPCs hit the asphalt of the parking lot aboard Camp Pendleton. They'd been processed at 29 Palms, so he only had to get his gear and go. Jamie's rucksack was large and green, just like every other Marine climbing off the bus.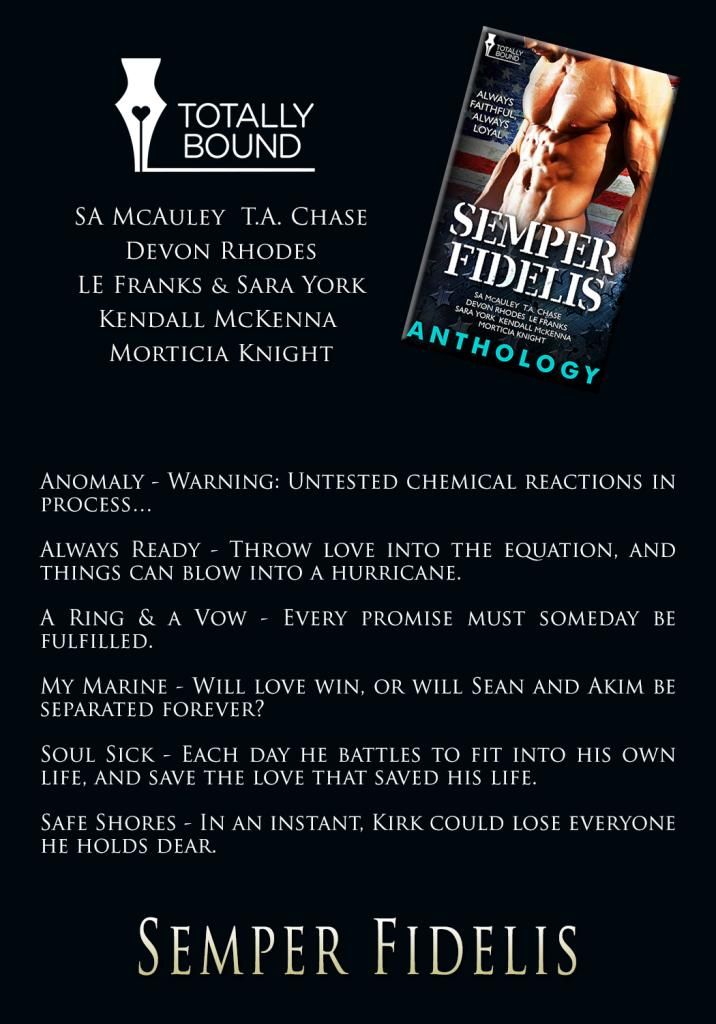 Luck was on his side, for once. Jamie's was the third ruck he checked. He shouldered the weight, turned on his heel and strode across the blacktop. Pushing his way through the gathering crowd of reuniting families, Jamie murmured apologies and hastily returned words of thanks and farewell from his men.
This was his first deployment since he and Tucker had met. This was Jamie's first homecoming since the repeal of Don't Ask Don't Tell. He didn't know what to expect—he wasn't sure how to act. Tucker had vowed, over and over, to be here to greet Jamie when he got home. Until Jamie had begun the final leg of his journey home, he'd thought he wouldn't mind Tucker greeting him at the house.
For the first time since accepting his commission, envy twisted sourly in Jamie's gut. He was surrounded by husbands and wives, wrapped in fierce embraces, exchanging passionate kisses of reunion.
"Jamie!"
He almost stopped walking, but he wasn't sure he'd actually heard his name.
"Jamie!"
His heart slammed against his ribs. He surreptitiously scanned the civilians, careful not to turn his head.
"Jamie Anders!" The resonant masculine voice cracked on the final syllable.
He gasped at the sight of Tucker, eagerly making his way through the crowd. His muscles were barely contained by the bright red, short-sleeved henley he wore. His jeans were the well-faded, comfortably soft pair that Jamie had frequently stripped off Tucker's body.
Finally pushing clear of the throng, Tucker sprinted the final distance between them. His long, dark hair floated around his shoulders, his dark eyes locked on to Jamie's. Need was a living thing inside him, driving him to drop his rucksack from his shoulder and open his arms wide.
Jamie stumbled back several steps when their bodies collided audibly. He released a laugh that masqueraded as a sob. His arms were full of Tucker, warm and firm against him. Jamie curled his hands into fists, gripping the soft cotton of Tucker's shirt. He buried his face against Tucker's neck, inhaling the scent that had lingered in his memory. Fragrant strands of long, silky hair tickled Jamie's cheek, adding another layer of scent and overloading his senses.
Tucker's breath was hot against Jamie's ear. His strong arms, wrapped around Jamie's shoulders, held him down and made this homecoming real. To his amazement, a violent shudder ran the length of Tucker's solid frame. The soft sound he made against the shell of Jamie's ear was part sigh, part sob. That sound reached into Jamie's chest, wrapped a fist around his heart and cradled it lovingly.
"I missed you so fucking much," Jamie murmured, his lips dancing lightly along Tucker's bristly jaw.
"I'm so glad you're home." Tucker's voice was raw with emotion. He swallowed audibly. "I'm glad you're home and that you're okay."
Jamie only nodded. The fronts of his legs were peppered with fresh, angry red scars. He saw demons in his dreams and couldn't wash a dead man's blood from beneath his fingernails.
"I wasn't sure you were serious about meeting me here." Jamie pulled back but couldn't meet Tucker's eyes.
Once again, Tucker proved he was the braver man. Jamie's face was held between Tucker's rough hands and their mouths pressed together. Jamie opened for Tucker, welcoming his seeking tongue and licking back against him. It was better than he remembered and as good as he'd dreamed.
They parted reluctantly and Jamie suddenly realized what had just happened. A quick glance around told him no one was paying them any attention. They were just another couple, happy to be reunited.
"I couldn't wait a second longer to see you again," Tucker breathed against Jamie's lips.
Jamie struggled for a long moment. He understood Tucker's words, but not their meaning. He smiled with sudden comprehension, and agreeing completely.
"Let's get out of here," Jamie said, nipping lightly at Tucker's lower lip.
Tucker stepped back, smiling blindingly. "Do you need to check out with someone?" His hand slid down Jeremy's arm to grip his hand.
"Already done," Jamie replied. "Where's the car?"
Pausing only long enough to throw his rucksack over his shoulder once more, Jamie let himself be led by the hand to where Tucker had parked his pick-up.